The Daring Way™ Programs
Are you looking for new courage and strength to help you through a difficult life situation? Do you want to experience more joy, gratitude, and contentment to make positive change in your life?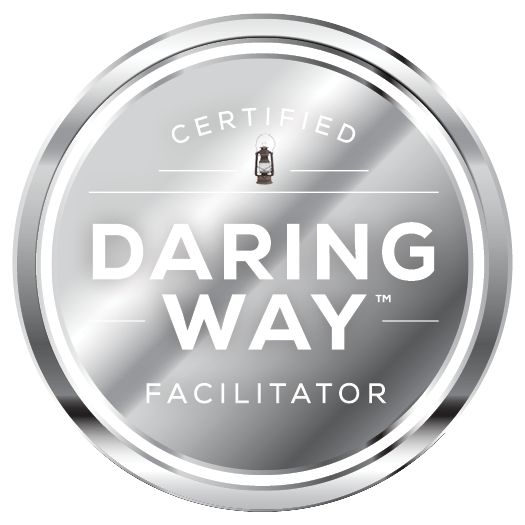 Certified Daring Way Facilitators (CDWF) are helping professionals trained in a highly experiential methodology based on the research of Dr. Brené Brown.
Based on the work of New York Times bestselling author Dr. Brené Brown, The Daring Way Programs at AllHealth Network provide a pathway to deeper understanding and appreciation for oneself and others. By creating a safe environment and challenging you to connect with yourself and others from an authentic place, these programs help you live a more engaged life and make decisions in line with your values.
We offer three modules based on Dr. Brené Brown's work:
Module# 1 – Daring Greatly™
Brené Brown's research illuminated how all individuals are hard wired for connection, and yet our behavior can limit our ability to let others into our lives. The Daring Way™ Module, led by one of our Certified Daring Way Facilitator licensed therapists, will facilitate discussion and teach skills to help you transform the way you live, love, parent and lead.
Join the group to learn:
How we use armor to keep distance from others
How emotions impact our behavior
How to recognize and take care of our emotions
How to live into our values
How to identify and address shame
New groups start every four weeks and meet weekly. To learn more about specific dates and times of The Daring Way™ Programs, please call our Information and Appointments line at 303-730-8858.
Module #2: Rising Strong™
When we fall, getting up can be difficult. In her work "Rising Strong," Brené Brown teaches us that rising after a fall when our courage has been tested teaches us the most about who we are.
Rising Strong™ clinical groups are led by a licensed therapist. The weekly group lasts for about three months and will cover three steps in the process:
The Reckoning
The Rumble
The Revolution
Join us to learn how to live in the here and now, as we embrace discomfort, learn from our failures and courageously try again. This group can be taken before or after Daring Greatly™ program. Rising Strong™ compliments The Daring Way™ with tools and support to rise up after being vulnerable and daring greatly in your life.
Find out more about Rising Strong™ available start dates and times by calling our Information and Appointments line at 303-730-8858.
Module #3: The Gifts of Imperfection™
Are you engaging in the world from a place of worthiness? This group is about learning to be wholehearted and explores why we focus so much on what other people think. It's about stepping into the belief, I AM IMPERFECT and I AM ENOUGH!
"Each day we face a barrage of images and messages from society and the media telling us who, what, and how we should be. We are led to believe that if we could only look perfect and lead perfect lives, we'd no longer feel inadequate – Brené Brown, The Gifts of Imperfection.
Join us in The Gifts of Imperfection™ module as we learn:
How striving to be perfect is an unachievable goal that has negative feeling about ourselves
How to let go of anxiety, self-doubt scarcity and fear
How to cultivate compassion, calm, gratitude, and much more
To learn more about this group and available start dates, call our Access to Care Specialists at 303-730-8858 and ask about The Gifts of Imperfection™ module.
You can find Printouts, Quote Cards, Reading Guides and more
downloadable resources from Brené Brown here.
Additional Program Details
For more information about our Daring Way™ Programs in the south Denver metro area or to schedule an appointment, call us at 303-730-8858. If you would like to email us for more information, feel free to send us a message at TheDaringWayProgram@AllHealthNetwork.org.