In partnership with: Colorado Crisis Services
Our Walk-In Center (WIC) is open 24 hours a day, 7 days a week. Our licensed clinicians offer confidential, in-person support, information and referrals to anyone in need.
We see children, adolescents, young adults, families and adults.
Our licensed staff can also provide psychiatric evaluations to help guide clinical decisions around whether or not an inpatient stay may be needed on a psychiatric unit, at our Acute Treatment Unit, a Crisis Stabilization Unit or a respite facility.
One goal of coming to a Walk-In Crisis Center is for individuals to safely de-escalate and receive clinical support for a mental health or substance use problem. Our staff provide a connection to the right care at the right time by coordinating a warm hand-off to appropriate treatment services.
Our helpful Phone Intake Counselors are available at all hours of the day to receive referrals from the community, area hospitals or from our AllHealth Network crisis mental health service hotline.
AllHealth Network is proud to partner with local law enforcement to provide Crisis Intervention Team (CIT) services. We have mental health clinicians who ride along ("co-respond") with area police departments to help during a crisis. If you or a loved one has a mental health emergency, ask if a CIT-trained officer is available when you call 911.
Crisis Stabilization Unit (CSU)
In partnership with: Colorado Crisis Services
The Crisis Stabilization Unit (CSU) is a residential, unlocked facility with clinical care for clients struggling to manage their psychiatric conditions and who are not at high risk of harm. The average length of stay at our CSU is always less than 5 days. The small group, living room like environment with access to our outdoor patio and therapeutic walking path make this a good option for adults seeking services to regain balance. We can also arrange placement at a
Colorado Crisis Services partner CSU for individuals under age 18.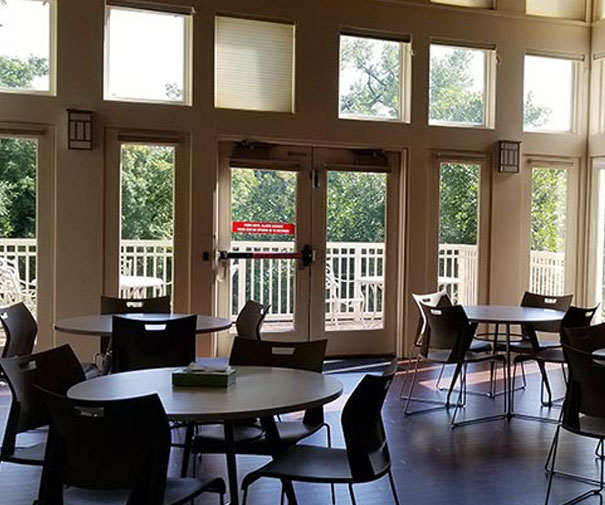 AllHealth Network's CSU is available for adults (age 18 and older) who need more intensive services than outpatient. Voluntary or involuntary treatment can be for up to five days. The CSU engages in therapeutic groups such as art, yoga, and mindfulness and even has an iPad to broadcast music and podcasts. Individuals must be referred from a Walk in Crisis Center to be admitted to the CSU.
The CSU has a psychiatric provider available for evaluations, ongoing assessment and medications as needed. Our compassionate nursing team is available around the clock, and a clinician helps facilitate groups, individual and family counseling for clients.
Bridge House Acute Treatment Unit
Our Acute Treatment Unit (ATU) is a 16 bed treatment facility for adults in need of an inpatient stay due to a psychiatric or mental health crisis. Bridge House offers a residential level of care to adults experiencing a complex behavioral health crisis. It is a higher level of care than a Crisis Stabilization Unit, yet not as intense as an inpatient hospital.
The ATU is a safe place for individuals who are experiencing suicidal risk or an inability to function due to a psychiatric emergency. The clinical and nursing team use an evidence-based approach called Illness Management and Recovery to help clients develop personal strategies for coping with mental illness and moving forward with their life. Crisis mental health services include:
Psychiatric evaluation
Medication evaluation & management
Medications (as needed)
24/7 Nursing care
Physical examination
Therapeutic groups
Skill based and recreational group activities
Counseling
Care Navigation
Peer support
Family meetings
The ATU has two single rooms for clients who identify as transgender who may prefer additional privacy or for individuals who would benefit from not having a roommate due to their psychiatric condition. ATU's provide intensive and individualized services in a therapeutic, yet secure setting. Treatment may be voluntary or involuntary.
Bridge House clients have access to books, magazines, movies, puzzles, art supplies, a shared iPad for podcasts and music, an elliptical, as well as X-Box games.
Partnership with Law Enforcement
Many of our communities have Crisis Intervention Team (CIT) programs that train police officers to handle and respond safely to psychiatric crisis calls. AllHealth Network partners with local area law enforcement to place a mental health co-responder in the police car. Whenever possible, a licensed clinician from AllHealth Network will respond to 911 calls involving an individual who is experiencing a mental health crisis. If a clinician is not available, our dedicated team of case managers receive referrals from law enforcement for follow up with the individual within 24 hours.