Welcome to the Weekly Well-Being Connection! Each week we will share advice from our clinical experts on ways to care for your mental health and well-being throughout COVID-19. 
The Colorado Spirit Team at AllHealth Network received exciting news recently. Our grant funding has been extended to December 27, 2021. This means we can continue to provide free support for the community for several more months. We will keep offering monthly Psychological First Aid trainings (see here for our previous post about what PFA is and see here for training dates and registration process ). Our new Coffee Connections group  will continue, and we have many new group connection options in the works. We will continue providing customized support and training to organizations and businesses and keep sharing content with you in our Well-Being Connection emails and blog posts.
We know that with increased vaccination rates, changes around mask guidance, and many business capacity limits being lifted, it might seem odd that we are still offering support around pandemic related stress. I know many people in my life are feeling like most of the challenges are behind us, and I have been asked about how our team can be a support now. So we wanted to take a moment to share some ways our team and resources could be helpful as we navigate the next chapter of the pandemic.
Decision fatigue

– we wrote a piece about this last year , yet we have noticed this is hitting many of us again. 

As we experience fewer mandates around behaviors, this puts the responsibility for choice back on us as individuals and families

. While there are certainly benefits to this choice, it also puts many of us squarely back into having added considerations for routine activities. For example, I have a 10-year-old. Because she cannot be vaccinated, she still wears a mask most of the time. I am fully vaccinated, so do not need to wear a mask, but she and I have chatted and she knows I am happy to wear a mask too if it makes her more comfortable. Typically this means I just wear a mask. This weekend though, as we were running errands, she told me she did not care if I wore a mask or not; she said she liked it when I did, but would be fine wearing her mask even if I did not wear one. So suddenly, I was in a place of needing to take an extra minute to weigh pros and cons before walking into the store. 

Add this up over time, and the number of seemingly small choices we have to make around routine activities can become taxing

in a way that surprises us.

Re-entry adjustment

– we have written a lot about re-entry anxiety and fear over the past few weeks. Even if you do not feel intensely uncomfortable, being in crowds and doing things you have not done in the past year will feel a little different. This is completely understandable, and sometimes it helps to chat with someone about this or to talk with others about what helps them with these changes.

Grief

– We have all experienced losses due to the pandemic. 

Whether it is the death of a loved one, financial loss, or missed celebrations and events, we all have experienced things that can bring up feelings of grief

. As the immediate risk of the pandemic starts to lessen, some of us will notice feelings of grief re-emerging or starting to bubble up. Knowing this is natural and having options for accessing support can help us navigate this.

Burnout

– after more than a year of COVID, lots of us are experiencing burnout, whether it is from our professional roles or the shifts we have made in our lives to support those around us.

Burnout does not just go away once the stressful situation ends

, and most of us benefit from support around ways to cope with burnout and move through it.

Aside from these specifics, many of us will start to notice other post-pandemic reactions

. As tension lifts and things start to shift in our lives, some of us will notice delayed stress reactions. Some of us may have developed some habits to cope with stress that we want to try to move away from (e.g., poor sleep patterns, overworking, alcohol or drug use, sedentary lifestyle). Some of us might notice that living through the pandemic has impacted our experience with prior trauma in surprising ways.
Whatever you notice over the coming weeks and months, please know the Colorado Spirit Team at AllHealth Network is here to be a listening ear and support. Please reach out. All our support is free.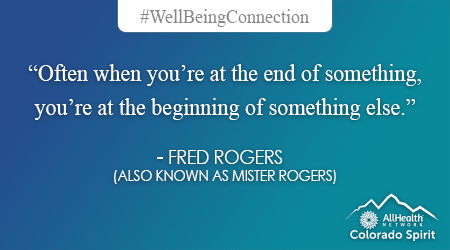 If speaking to someone would help, please reach out. AllHealth Network provides several supports.
To speak with someone in the Colorado Spirit Program about stress related to the pandemic, please call

720-707-6789 or visit our webpage at allhealthnetwork.org/Colorado-Spirit
For information about other services at AllHealth Network or to get connected with ongoing behavioral health support, please call 303-730-8858. AllHealth Network is continuing to provide service via telehealth or by phone and our Crisis Walk-in Center remains open 24/7.
If you are experiencing a mental health crisis and are in need of immediate assistance, please call the Colorado Crisis Hotline at 1-844-493-8255 (TALK) or text TALK to 38255.
Be sure to follow us on Facebook to receive information about our free groups and get notifications when we post coping tips, mindfulness suggestions, and more.
Resource links