We appreciate Colorado Spirit Counselor, Sara Harris, LSW for writing this week's content! 
It is no surprise that this pandemic has impacted children as much as the adults in their lives.
From uprooting routines, distance learning, isolation, and much more, this pandemic has created unique challenges and stressors for young children to young adults as they navigate crucial periods of physical, social, and emotional development. Given everything children and young adults (and the adults that support them) are facing, the Colorado Spirit team at AllHealth Network is taking an intentional approach to offer support. The team has created several new offerings, geared toward children, parents, and young adults.
A concrete way we know we can support children is by supporting the adults around them.
One support our team is offering is re-starting our popular virtual parent support group.   Running March – April, this group will cover topics ranging from self-compassion, stress management, embracing uncertainty, positive parenting, self-care, and more. This group will provide a space for psychoeducation, connection, and community building, as well as resource sharing. Take a sneak peek of some of the resources we plan to explore.
Emotion chart : A simple way to check in on your child's feelings
"I" Statements : A communication tool to express our own feelings that seeks to avoid judgment, guilt, or blame on the receiving person's side.
Apps for teens and young adults : Topics covered: anxiety, coping skills, safety, suicide prevention and awareness, depression, addiction, etc.
You can register and find more details on dates/times for the parent support group here . If these times and dates don't work with your schedule please don't hesitate to reach out to a CO-Spirit team member so we can try to make any accommodations possible.
Another training we are able to offer is Psychological First Aid (PFA)
PFA was developed by the National Child Traumatic Stress Network. This training is a useful tool to help adults think through ways to support the youth in their lives. PFA offers practical assistance to meet immediate needs and concerns, reduce distress, and foster adaptive coping in the wake of a disaster. Learn more about PFA here or read our blog post  about why we think PFA is so valuable. If this training is something you/your organization/school might be interested in, please connect with our team to set up a time and date or consider joining one of our free trainings scheduled in February and March.
Beginning in March the Colorado Spirit team will be holding various groups and presentations for any age child/young adult centered on stress management skills.
School has most likely looked and felt very different the past two years, making transitions and uncertainty feel constant. Our team will be holding open space for students of all ages to work through these feelings utilizing mindfulness, psychoeducation about how stress impacts our brain/body, and much more. Make sure to sign up for our newsletter where we will be sharing more details about these connection opportunities.
Check out Colorado Spirit's Facebook page for our newest social media "Kids Corner" addition, where we will be posting resources specifically for youth and their parents every Tuesday.
Finally, we would like to remind you that the Colorado Spirit Team at AllHealth Network is happy to provide support to specific community groups, agencies, child care facilities, and schools. If you are a part of one of these communities, please reach out and we would be happy to discuss support we can provide to staff, educators, families, and youth in your setting.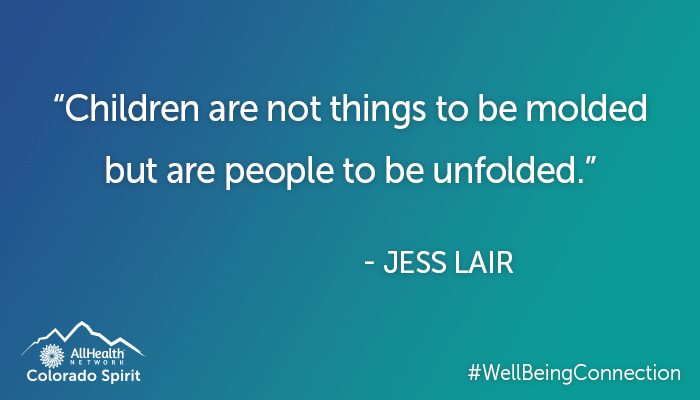 If speaking to someone would help, please reach out.
AllHealth Network provides several supports:
To speak with someone in the Colorado Spirit Program about stress related to the pandemic, please call

720-707-6789 or visit our webpage at allhealthnetwork.org/Colorado-Spirit
For information about other services at AllHealth Network or to get connected with ongoing behavioral health support, please call 303-730-8858. AllHealth Network is continuing to provide service via telehealth or by phone and our Crisis Walk-in Center remains open 24/7.
If you are experiencing a mental health crisis and are in need of immediate assistance, please call the Colorado Crisis Hotline at 1-844-493-8255 (TALK) or text TALK to 38255.
How do you know if you're experiencing a mental health crisis? Click here to learn about mental health crisis warning signs to look out for from the National Alliance on Mental Illness (NAMI).
Be sure to follow us on Facebook to receive information about our free groups and get notifications when we post coping tips, mindfulness suggestions, and more.