There are jobs. And then there are jobs where you can truly make a difference in people's lives. At AllHealth Network, your career impacts the lives of many in our Colorado community. We offer mental health careers for mental health advocates who provide meaningful opportunities for our neighbors and loved ones who are facing tough challenges during these times.
About AllHealth Network
AllHealth Network is a not-for-profit, private organization that has been providing mental health and substance use counseling since 1955 offering a full array of clinical services available to all ages. AllHealth Network has over 200 clinical providers and more than 25 psychiatrists and nurse practitioners. We have providers located in area schools, jails, courts, law enforcement entities and at our twelve physical locations in Littleton, DTC, Castle Rock, Parker, Centennial, and Highlands Ranch.
We Are Looking for Remote Mental Health Therapists to Join Our Team
Today, we continue to provide in-person services at our 24/7 walk-in center, our Acute Treatment Unit and our Crisis Stabilization Unit.  Most other services are being delivered through virtual telehealth appointments to help individuals and families in our community. And, we'd love for you to consider joining our trusted family of mental health and substance use providers — we need licensed nurses, medical providers, substance use counselors, and mental health therapists. Our warm, smart, compassionate clinicians (counselors, therapists, social workers, psychiatrists, case managers, nurses) offer a consistent model of clinical excellence with a focus on personalized goals for treatment. We have a wide variety of job opportunities from working exclusively with early childhood clients, to working in the crisis field, to serving on an ACT team.
In 2020 and 2019, AllHealth Network was ranked by Denver Post as one of the Top Workplaces. Given that employees start with 20 days of PTO and go up from there, it's easy to see why. We also offer a competitive benefits package that includes, medical, dental, vision, life, disability, and retirement plans. To hear from some of our AllHealth Network team about why they love working at AllHealth Network, see the video here.
Our Leadership
Our leadership team makes decisions with warm hearts and informed minds. Everything we do is geared towards strengthening the organization and our employees so that we can ensure our staff is providing compassionate care. No matter where you work at AllHealth Network, all supervisors are trained in Evidence Based Leadership™ to ensure that all staff get the right support and have a place to be heard.  We believe in creating a culture of recognition with a focus on living our values.
Training Staff for our Mental Health Team
We place a strong emphasis on training — it is our love language. We also offer clinical consultation groups to learn new evidence-based practices. We provide free CAC training supervision for those who want to expand their skills in substance use treatment.
Our Mission

We enhance the quality of life for individuals and families in our communities through compassionate, integrated behavioral health services.
Steady Growth Over the Last Few Years
In the past few years, we've had steady growth and have reached nearly 450 employees today. And our employee retention rate is higher than industry averages. We've added eight different behavioral health programs and two new locations (Highlands Ranch and Centennial) in addition to expanding our telehealth offerings. Our growth has led to more vacancies so we can help people in our community.
Our Values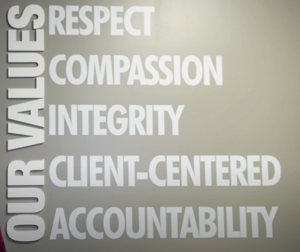 AllHealth Network employees identified the values for our organization. More than 350 of our compassionate staff shared their beliefs on the selection of guiding principles that represent who we are. These values shape our culture and emphasize how we care for one another, our clients, our community, and our partners. We expect all employees to embody behavioral expectations of our values in their everyday work and as part of their competency as a member of the AllHealth family.
Respect
We treat our clients, colleagues and partners with respect and sensitivity; we appreciate and accept all individuals and value their unique contributions.
Compassion
We possess an inner desire to positively impact the lives of others (clients, colleagues and partners) through kindness, empathy, generosity and acceptance.
Integrity
We are consistently open, honest, ethical and genuine; we do what we say we will do.
Client-Centered Service
We do what's right for our clients; we speak, act and make decisions with the client in mind.
Accountability
We accept responsibility for our behaviors and decisions; we communicate results transparently.
AllHealth Network Careers – Join Our Team
We hope you can join our growing AllHealth Network team to help impact the lives of many in our Colorado community. This is an incredible opportunity to serve many individuals and families in need. Reach out or apply today!
We are specifically looking for medical leadership, medical providers and licensed clinicians to help individuals in our community during these challenging times.
How to Apply
See our AllHealth Network Careers page to find all of our mental health jobs and openings including licensed nurses, prescribers, substance use counselors, mental health therapists and more. For more information, call 720-707-6403.
Disclosure
We are dedicated to equal opportunity in employment without regard to race, religion, gender, sexual orientation, national origin, age, veteran or disabled status, or any other protected class. Reasonable accommodation will be made as appropriate to enable any employee or applicant for employment to safely and properly perform the job applied for as requested and as appropriate. All employees must be authorized to work in the United States. We are a drug-free work environment. All new hires must receive an influenza vaccine and present a copy of the receipt, or submit an approved waiver annually as a condition of hire.