Many thanks to Colorado Spirit team member, Ivette Ceballos, for writing this week's post in both English and Spanish.
The Colorado Spirit Team at AllHealth Network wants to honor September 15th to October 15th which is celebrated nationwide as National Hispanic Heritage Month. It traditionally honors the cultures and contributions of both Hispanic and Latino Americans as we celebrate heritage rooted in all Latin American countries.
Before talking about the importance of Hispanic Heritage Month, it is crucial to define the meaning of the word. Hispanic refers to a person who is from, or a descendant of someone who is from, a Spanish-speaking country.
Hispanic Heritage Month is a time to celebrate Hispanic Heritage and the resiliency of our communities. It is a time that encourages us to reflect on the resiliency our ancestors had that led them to all of their success and contributions to our nation. Part of being resilient is utilizing our support systems and asking for help when we need it. Hispanic culture emphasizes the importance of family and can even extend outside of your immediate family. Seeking support from family and loved ones is seen as a source of comfort and empowerment. This year has highlighted how important it is for us all to use our support systems and seek out resources necessary for our wellbeing.
Hispanic Heritage Month is not only a time to celebrate our cultural pride, but it is an opportunity to bring awareness to the challenges our Hispanic community faces. Barriers of care such as language, less health insurance coverage, lack of cultural competence, legal status, and stigma can keep someone from getting connected to the proper resources they need to address whatever it is they might be facing.
Below is a list of resources that are dedicated to providing care and information to the Hispanic and Latinx communities.
During Hispanic Heritage Month, let's not only celebrate Hispanic culture, but advocate for mental health awareness. Let's celebrate our strength and perseverance and hold space for support within our communities.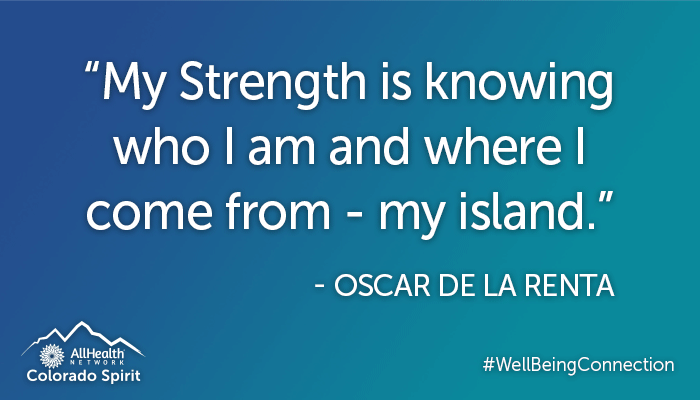 If speaking to someone would help, please reach out. AllHealth Network provides several supports.
To speak with someone in the Colorado Spirit Program about stress related to the pandemic, please call

720-707-6789 or visit our webpage at allhealthnetwork.org/Colorado-Spirit
For information about other services at AllHealth Network or to get connected with ongoing behavioral health support, please call 303-730-8858. AllHealth Network is continuing to provide service via telehealth or by phone and our Crisis Walk-in Center remains open 24/7.
If you are experiencing a mental health crisis and are in need of immediate assistance, please call the Colorado Crisis Hotline at 1-844-493-8255 (TALK) or text TALK to 38255.
How do you know if you're experiencing a mental health crisis? Click here to learn about mental health crisis warning signs to look out for from the National Alliance on Mental Illness (NAMI).
Be sure to follow us on Facebook to receive information about our free groups and get notifications when we post coping tips, mindfulness suggestions, and more.
Archives