We would like to thank Colorado Spirit Counselor, Chelsea Nibert, for both her military service and for writing this week's content!
This Veterans Day the Colorado Spirit team would like to highlight the veteran resources that are available to those who have fought for and honored our country by serving in the United States military. Whether it be during times of war or peacetime, the selfless sacrifice of those who have donned the uniform to represent our great nation deserve to be informed of the opportunities available to them as a courtesy of appreciation. We have identified, and are highlighting below, various veteran resources around career building, community involvement programs, and local services to share with those who have served or are currently serving. We hope that this read offers useful information for our veterans to access the support they need.
 

Career Services Opportunities for Veterans
The VetSuccess Academy at the SANS Institute provides veterans the opportunity to enroll in On Demand cybersecurity courses through their CyberTalent Immersion Academy program. This enrollment comes at no-cost to participants who meet the eligibility guidelines and wish to pursue a career in cybersecurity.
Free 1-year Premium subscription for LinkedIn – In collaboration with the ID.me platform, LinkedIn has enabled U.S service members, both past and present, to access a free 1-year Premium Career subscription to LinkedIn Learning. This feature allows service members to access the advanced features of the LinkedIn platform such as the profile views, learning courses and in mail credit features.
Unique Programs for Veterans
Veterans Outdoor Recreational Therapy Project – V.O.R.T.P. has a mission to provide a lifetime of healing through memorable outdoor experiences for veterans and their families. This project offers a range of outdoor activity experiences such as guided fly fishing trips, horseback riding, Jeep tours and more to help promote healthy lifestyle choices that support the readjustment and healing process that many veterans are facing.
Guitars for Vets – G4V provides a therapeutic alternative to common stressors that many veterans face. This organization aims to provide a guitar instruction program to veterans struggling with PTSD, emotional distress and physical injuries as a means of healing through music. Run by volunteers, this program not only provides guitar lessons but an acoustic guitar and guitar kit as well. G4V is organized primarily through the Department of Veterans Affairs' facilities and community-based medical centers.
Local Veteran Resources & Services
Veteran Resources & Services at Arapahoe Douglas Works
One-on-One Assistance
Resume and Interview Assistance
Job Referrals
Labor Market Information
Education and Training Assistance
Job Preparation Workshops
Career Assessments
Job Fairs and Hiring Events
Referrals to other state and federal agencies for additional services
Looking for unique discounts just for veterans?
This VA webpage publishes three newsletters a month that informs veterans of the various discount opportunities that are available to them. Here you can find everything from Great Wolf Lodge tickets to restaurant deals that are running specials all year round. To sign up for the newsletter, click here .
These veteran resources represent some of the many unique opportunities that exist for veterans. A breadth of programs are dedicated to the career advancement, skill building, and networking opportunities that connect veterans with local organizations to help empower, motivate and enable these individuals to achieve their post-separation goals. Websites that continuously update these opportunities include:
We want to thank those who have served and are currently serving in the United States military for their sacrifice to this nation and their contributions to our freedom as Americans. We recognize that various experiences while serving can have lasting impacts on both physical and behavioral health and hope that these resource serve as a way to help. The list of resources, programs, discounts, and services that are available to veterans continues to expand and develop as needs amongst this population arise, so we encourage you to share these opportunities with friends, families and all those who have once worn the uniform.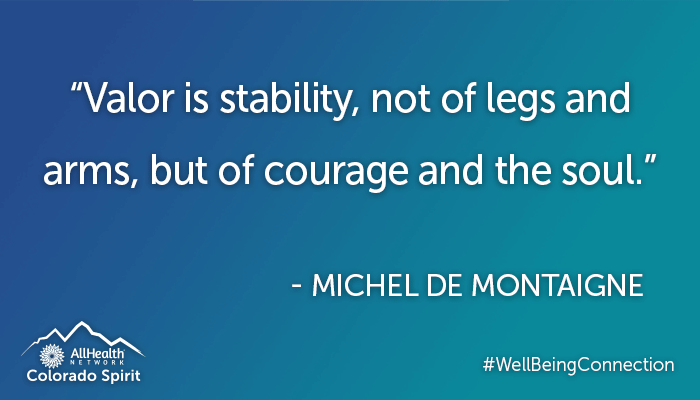 If speaking to someone would help, please reach out.
AllHealth Network provides several supports:
To speak with someone in the Colorado Spirit Program about stress related to the pandemic, please call

720-707-6789 or visit our webpage at www .allhealt org/Colorado-Spirit
For information about other services at AllHealth Network or to get connected with ongoing behavioral health support, please call 303-730-8858. AllHealth Network is continuing to provide service via telehealth or by phone and our Crisis Walk-in Center remains open 24/7.
If you are experiencing a mental health crisis and are in need of immediate assistance, please call the Colorado Crisis Hotline at 1-844-493-8255 (TALK) or text TALK to 38255.
How do you know if you're experiencing a mental health crisis? Click here to learn about mental health crisis warning signs to look out for from the National Alliance on Mental Illness (NAMI).
Be sure to follow us on Facebook to receive information about our free groups and get notifications when we post coping tips, mindfulness suggestions, and more.
Resources
Archives